Sorry, there were no forum topics found.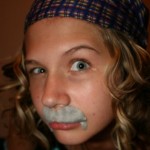 active 1 year, 7 months ago
Today was great, Raney stayed the night and we stayed in bed until 2 in the afternoon. it was also raining all morning which made it ten times more amazing. around 5:30 i went into work and ended up getting sent home cause a girl came to cover my shift, another pleasant surprise. My friends just left to go to some dumb party in stone oak that is filled with people that they hate, and even more people that i hate. but its ok, cause im writing on this here whatever it is and laying next to my dog. life is good.
View
Community