Sorry, there was no activity found. Please try a different filter.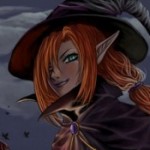 active 1 year, 6 months ago
a short little excerpt form my story. She was found in her chair. Daniel walked over quietly, not knowing if she was just asleep. He reached out, gently touching her shoulder. She toppled over, and fell to the floor. Daniel jumped back, for he knew she was dead. For years, Mrs. Winthrope had been his neighbor, and had shown no signs of illness. Until five days ago. Her daughter had come to his home in a panic, saying her mother had a fever and wasn't eating. He had gotten the local doctor, but he said it was too late. She had shown some improvement the previous day, but it didn't last long. He walked out of the house, promising to help plan the funeral and pay his respects. He started down the street, walking by the other houses. It was December of 1890. The air was cold, and the skies showed no clouds. The trees were bare, and the stores were packed with last-minute Christmas shoppers. As Daniel walked by the flower shop, he looked into its front window. Sure enough, Lily, the owner, was tending to the flowers. She was still young, only 28. She had bright red hair that was pulled into a bun. She looked up and saw Daniel, bringing a friendly smile to her face. She had dark brown eyes that were the color of warm chocolate, and her teeth were as white as freshly fallen snow. Daniel waved at her, and continued to walk. He would give her a proper hello later, but right now he had a lot on his mind. He needed to talk to the doctor and inform him about Mrs. Winthrope's passing. He wanted to be a doctor too when he was younger, but the sight of blood and guts made him sick to his stomach. At the age of 31, he still didn't know what he wanted to do with his life. He was currently a laborer in a nearby factory. He didn't like it, but it gave him money and kept him in his home. He arrived at the doctor's house, just as the doctor was leaving.
View
Community