Sorry, there was no activity found. Please try a different filter.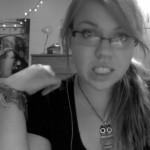 Lucie @luciebreathes

?
active 7 months, 1 week ago
Lust. I don't know if that's what you'd call this. In fact, I'm sure it's not. At least, not on my side. You lusted after me that night, came over after hours to "watch a movie". But that's not what happened. You tried to kiss me. And maybe it seems like nothing to you, because you've probably kissed lots of girls, and more than that even. Prettier girls with softer lips and eyes that told stories. But mine must tell stories too, they must. And I said, I like you but I don't know you and you can't kiss someone if you don't know them. It all comes down to that I guess, and maybe I can't let it go because I regret saying no. But at the same time I know that I would have regretted saying yes, that things would probably have escalated into something I wasn't ready for. I probably wasn't ready for that even. I want to talk to you so badly, because sometimes I think you're the male version of me, -ish. But I'm still so scared of fucking things up that I can't, can't speak true words. Why is it so easy to write all of this out, for an audience that I'll never know, but I can't even tell you that I think I might be able to love you?
View
Community